Funny Face was reported to have survived a near-fatal accident on the Accra- Kumasi Highway, Bonsu Junction specifically. This is the third time the comedian has survive an accident on the roads of Ghana. After he got out of the car, he made a Facebook Live video describing how the incident happened and praised God for saving his life.
Coincidentally, he was wearing Abebayor's jersey and the car which was involved in the accident was the one he chose when Adebayor told him to pick any car from his garage. As his video circulated, he got reactions from Ghanaians and many told him to be careful with his reckless driving. Apparently, some Ghanaians have witnessed him drive whiles texting on phone. Well, others also consoled him and thanked God for his life.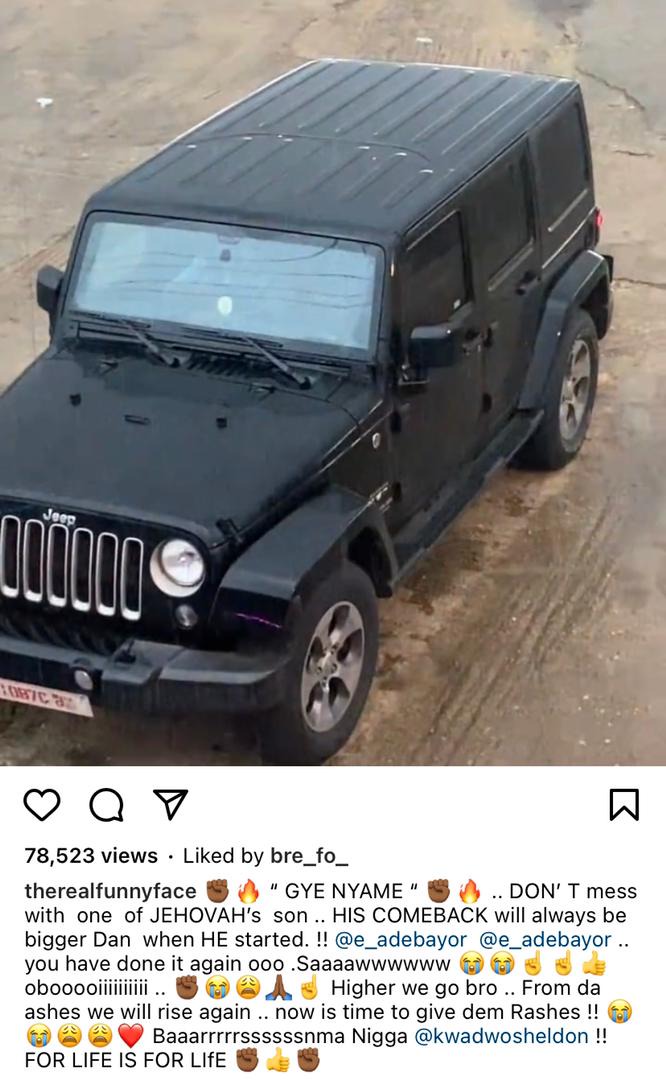 However, Adebayor gave the "Children's President" another car. This time around, he gave him a Jeep Wrangler. That car can stand whatever reckless move or road Funny Face decides to use. Well, the kind of friendship between the duos appears to be very deep. Funny Face took to Instagram to exalt Adebayor and thank him for another toy he can ride safely. Let's all make rich friends. And believer will say.
Source: operanewsapp.com
251 total views, 2 views today