Sharon Stone has raised some eyebrows after revealing what she really thinks about Meryl Streep.
The 63-year-old Basic Instinct star was interviewed by Zoomer about the release of her new memoir, The Beauty of Living Twice, where she claimed there were many actresses that were of equal talent to Streep, 73, but never achieved the same level of fame.
During the interview, the journalist quoted a line from her memoir about women constantly being pitted against each other in Hollywood.
"'It was put to us that there could be room for only one'," the reporter quoted. "So when you finally got to work with Meryl Streep, you realised…"
However, Stone swiftly cut her off, questioning the reporter on the phrasing of the question.
RELATED: Sharon Stone got paid drastically less than Michael Douglas for Basic Insinct: 'Michael made $14 million'
"I like the way you phrase that, that I finally got to work with Meryl Streep," she said. "You didn't say, 'Meryl finally got to work with Sharon Stone.' Or we finally got to work together."
The actress then said the reporter's phrasing was "very much the answer to the question."
"The business was set up that we should all envy and admire Meryl because only Meryl got to be the good one. And everyone should compete against Meryl," she said, clarifying that although she thinks "Meryl is an amazingly wonderful woman and actress," there are other actresses that are equally as talented.
"The whole Meryl Streep iconography is part of what Hollywood does to women," she said.
RELATED: Sharon Stone recalls slapping director after seeing infamous Basic Instinct scene for the first time
Stone then went on to name actresses she believes should have the same recognition as the 21-time-Oscar-nominated actress.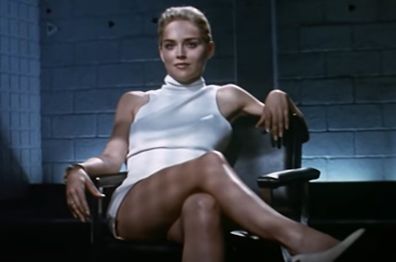 "Viola Davis is every bit the actress Meryl Streep is," Stone said. "Emma Thompson. Judy Davis. Olivia Colman. Kate Winslet, for f–k's sake. But you say Meryl, and everybody falls on the floor."
RELATED: The Devil Wears Prada cast: Then and now
Stone added she plays a "much better" villain than Streep.
"Meryl was not gonna be good in Basic Instinct or in Casino. I would be better," she stated. "And I know it. And she knows it. But we're all set up to think that only Meryl is so amazing that when you say her name it must have been amazing for me to work with her."
The snippet of the interview immediately went viral on Twitter, and users were divided in their responses.
"'sharon stone out there ending her own career…" a user tweeted, along with the section of the interview.
However, others thought she had a point.
"I do love Meryl Streep and think she is a phenomenal actress but Sharon Stone is right!!!!!!" one user wrote.
"What most people don't understand is that Sharon Stone is actually a Meryl Streep character and vice-versa," joked another.
Streep has not yet addressed Stone's comments.
For a daily dose of 9Honey, sign up here to receive our top stories straight to your inbox
291 total views, 2 views today