Gabi Grecko believes it's highly unlikely she will inherit any money from her late husband Geoffrey Edelsten's estate because he was not in an ideal financial situation when he died.
The aspiring rapper shared her thoughts today after one Instagram user accused her of only posting about the medical entrepreneur on social media because she was after his fortune.
"It's interesting that you didn't speak about him for years, had other relationships and yet now you're posting about him non-stop and saying you still love him and were still married? Make it make sense," the troll commented.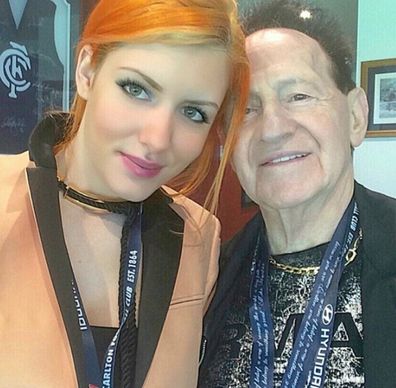 Grecko, who was still legally married to Edelsten when he died on June 11, hit back while telling the user to mind her own business.
"You don't know s–t about my relationship with Geoff. Just because it wasn't in the news, doesn't mean we didn't speak. And he was in debt," Grecko replied.
READ MORE: Gabi Grecko pays tribute to late ex-husband Geoffrey Edelsten with cryptic Instagram posts
"F—ing dumb b—h, money is the last thing on my mind. I just lost one of the biggest influences in my life so you can shut the hell up. How dare you. Okay, I'm a public figure but you're a human being – act like one. Make that make sense. My husband just died. Stay off my page. So mean and unneeded. Disappointed in people."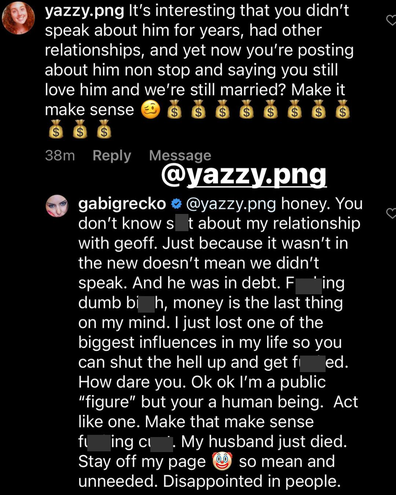 READ MORE: Gabi Grecko claims she was still married to Geoffrey Edelsten at the time of his death
At the height of his career in 2011, Edelsten was worth a reported $100 million in 2011. But the businessman reportedly filed for bankruptcy in an Ohio court in 2014, when it was reported he had $18.2 million in debts.
Grecko and Edelsten were married at a registry office in Melbourne on June 11, 2015. Eerily, he would die on that same date, six years later. The couple would split just months after their wedding before reconciling. There were many more breakups and makeups throughout their union before they split for good in April 2019.
For a daily dose of 9Honey, sign up here to receive our top stories straight to your inbox
142 total views, 2 views today