Perhaps time really does heal old wounds…
They are one big, blended happy family now — they called each other "sister wives" in a podcast aired on June 16 — but 10 years ago singer LeAnn Rimes, actor Eddie Cibrian and reality TV star Brandi Glanville couldn't be in the same room.
The country music star was blamed for the breakdown of Cibrian and Glanville's marriage in 2009 after Rimes and the actor sparked affair rumours when they co-starred in the movie Northern Lights. Complicating matters, Rimes was married herself to dancer-turned-chef Dean Sheremet.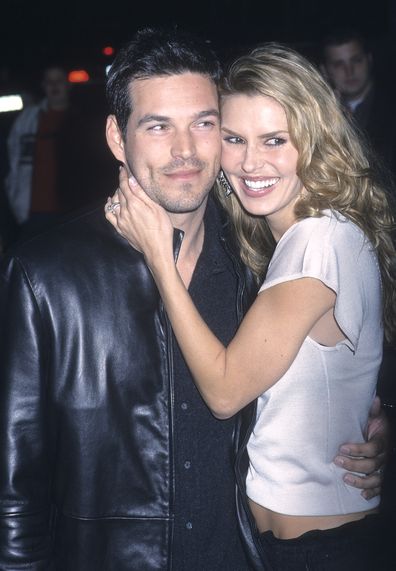 The affair was all but confirmed when Us Weekly published photos of the co-stars looking intimate at a restaurant. Needless to say, Rimes and Cibrian's affair ended both of their marriages, with the cheating pair then boldly tying the knot in 2011.
But while Sheremet walked away from his seven-year marriage without fanfare, Glanville was not going away without a fight.
Let's revisit the cheating scandal, the very public war of words and the very moment Glanville found out about the affair while at a karaoke bar…
READ MORE: Tori Spelling reveals she and husband Dean McDermott no longer share a bed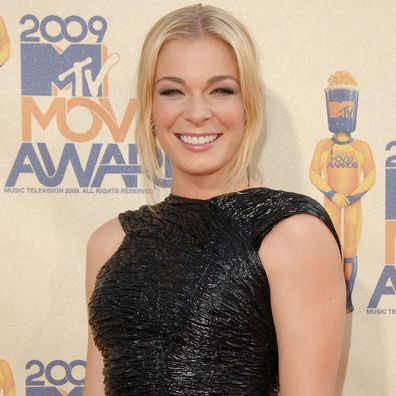 How did LeAnn Rimes meet Eddie Cibrian?
LeAnn Rimes was at the top of her game back in 2008 — she had just won three Academy of Country Music awards and two Grammys — when she started dabbling in acting.
That same year, she was cast in the TV movie Northern Lights opposite Eddie Cibrian, who played her love interest. But quickly their romance went beyond the set and numerous reports suggested they were having an affair.
Confirmation came soon when Us Weekly published photos of the pair looking cosy on a dinner date while on a break from filming on the set in Canada.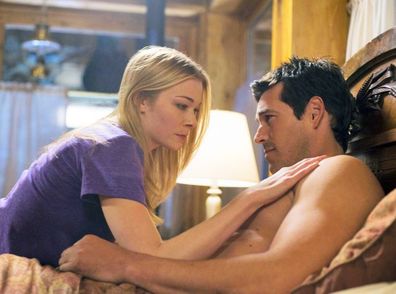 At the time, Rimes had been married to Dean Sheremet for six years, and Cirbain was seven years into his marriage with Brandi Glanville — the mother of his children: Mason, and Jake, who at the time were just five and two.
Both Rimes and Cibrian denied any wrongdoing and swiftly issued statements.
"Other than being friends and two actors who were romantically intertwined in a movie-for-television we filmed last fall, there is no truth to the reporting initiated by Us Magazine," he wrote in his statement. "It is a fabricated story that is using random snapshots as connective tissue to create a scandalous relationship."
Meanwhile, Rimes also denied they were romantically involved, writing in a separate statement: "This is a difficult time for me and my loved ones, but I appreciate all your continued support. I would like to assure all of you that this is a place for you to hear things directly from me and as you all know, not everything in our lives is always black and white. Have faith, Le."
However, both marriages imploded soon after Northern Lights premiered in March 2009. In July that year, Rimes separated from Sheremet — they finalised their divorce in June 2010 — and in August 2009 Cibrian filed for divorce, listing March 15 as his date of separation.
The new couple were engaged on Christmas Eve 2010 and secretly married in April 2011 with just 40 guests invited to the Malibu ceremony. It wasn't until later that year Rimes admitted she and Cibrian did develop feelings during filming.
"I know I didn't do it the right way," she said in her 2011 documentary Backstory: LeAnn Rimes. "I didn't have the tools to know how to do it the right way, how to let go the right way. I'd never been taught that … So, it got really messy, but I have learned a lot from that. And I'm not glad it happened, but I know why it did."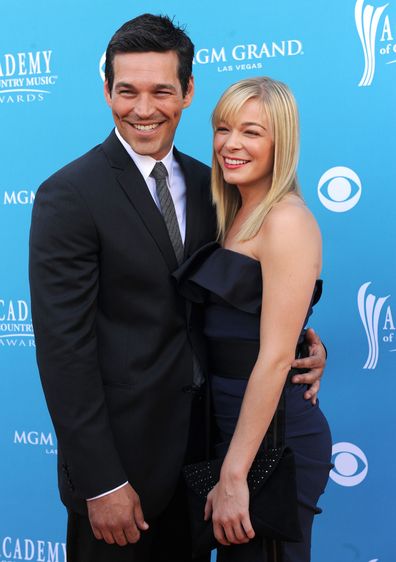 To this day, Rimes has no regrets about how their relationship came to be.
"I don't like the word regret because I think people use it in a way that it's really not its true definition," she told E! News in 2012. "I wish I handled it differently because I wish it could have been better for me, for Brandi, for Dean, for Eddie and for everyone else. I know, in this situation, it's going to take some time. All I wish is that everyone that was hurt, that we hurt, that I hurt, can be happy."
But Glanville was not going to let the newlyweds ride off into the sunset without telling her side of the story. And for the next 10 years, she would put the couple on blast at every given opportunity.
What happened to Brandi Glanville and Eddie Cibrian?
Eddie Cibrian dated former model Brandi Glanville for five years before they married in 2001. She reportedly left her modelling career to start a family with the actor — they welcomed their first son Mason in 2003 and second son Jake in 2007.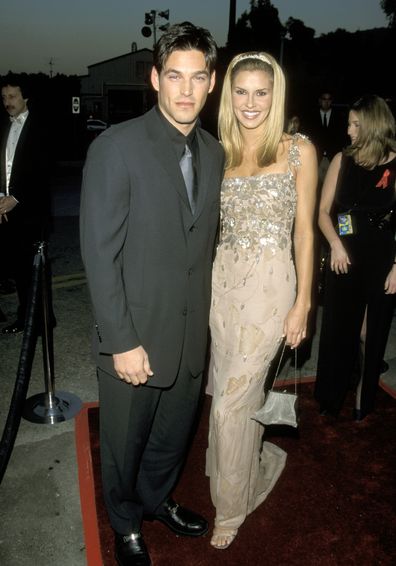 When the affair rumours broke out, Glanville stood by her man and told Rimes to respect her marriage and stop pursuing Cibrian.
"LeAnn is a stalker," Glanville told Us Weekly at the time. "She refuses to leave us alone — it is shameful and scary. People are going to say it takes two to tango, and I get that but, at some point LeAnn needs to stop asking him to dance."
Glanville also said Cibrian had to change his phone number to put an end to Rimes' "constant texting and calling".
"LeAnn is so desperate for fame she has left her self-respect in the gutter and doesn't care who she hurts to get what she wants," Glanville added. "She's hurting my family and messing with the wrong mum."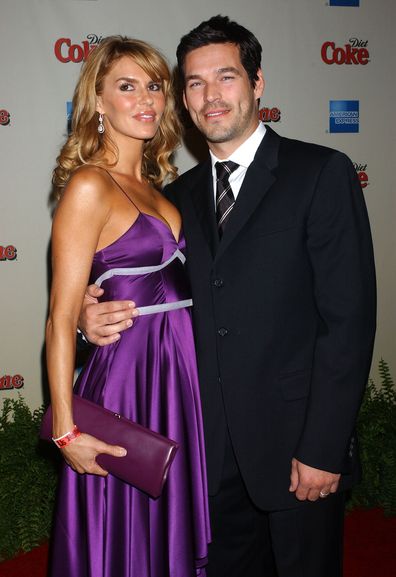 Following confirmation of the affair and rumours of another fling with LA waitress Scheana Marie (who now stars on Vanderpump Rules), Glanville hit pause on her marriage.
"Eddie and I have decided to take some time apart," she said in a statement in March 2009. "I want to do what is best for our children. Eddie and LeAnn deserve each other."
Cibrian would later file for divorce that August and the couple were officially divorced in October 2010. The following year, Glanville joined the cast of the reality TV series Real Housewives of Beverly Hills where she did not think twice about calling out her ex on the show.
"I was married to the number one douchebag of all time," she said in one episode. "I'm kidding! No, I'm not really."
How did Brandi Glanville find out Eddie Cibrian was cheating?
Capitalising on her Real Housewives of Beverly Hills fame, Brandi Glanville released her no-​holds-barred memoir Drinking and Tweeting: And Other Brandi Blunders in 2013.
In the book, she recalled the moment she realised her husband was sleeping with LeAnn Rimes.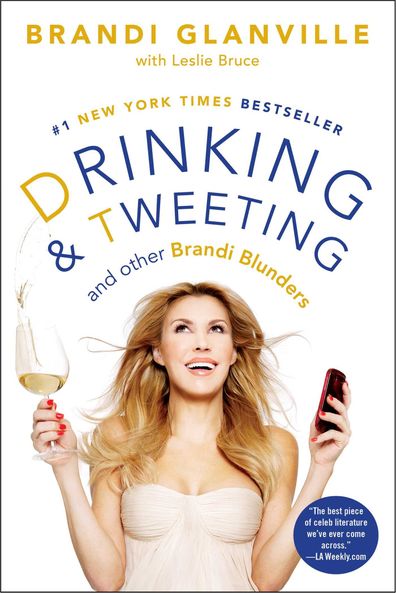 It happened on a double date in Calgary back in early 2009. Glanville flew to the Canadian city to visit her husband, and Dean Sheremet was also there for some quality time with his famous wife.
With all four in town, Cibrian set up a cringe-worthy double date for them at a karaoke bar — and it was there Glanville learned of the affair, which she recounted in her book.
"This woman [LeAnn], whom I had just met, spent more time flirting with my husband than acknowledging her own," the reality star wrote. "And Dean, bless his heart, ate his sushi, laughed at all the right moments, and pretended that he didn't see exactly what was in front of him."
It was when Rimes sang a duet with Cibrian on stage that Glanville's suspicions were confirmed.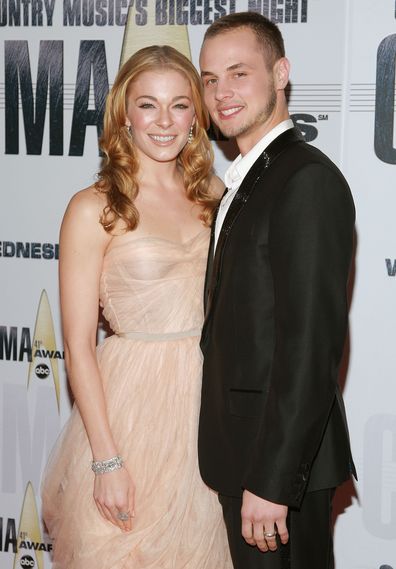 "When LeAnn awkwardly pulled my husband (not hers!) onstage for an awful karaoke rendition of Sonny and Cher's 'I Got You Babe', I just about lost it," Glanville wrote. "Was she serious? I felt like I was in the twilight zone.
"Being the devoted housewife and trusting partner, I wasn't going to say anything to them, but I knew that kind of tenacity didn't come from nowhere," she continued. "I looked at Eddie's smiling face on that stupid, low-rent stage and leaned over to Dean and said, 'You know they're f—ing, right?'"
Are Brandi Glanville and LeAnn Rimes friends?
While Cibrian and Glanville were forced to get along for the sake of co-parenting their two children, it took the reality star and Rimes much longer to get to that place.
Not going down without a fight, the RHOBH star dragged the singer on Twitter for anything and everything. Mainly, she had an issue with Rimes trying to claim Glanville's sons as her own.
"Flying out with my boys in a few hrs. Love that it's a family tour weekend. It's always more fun when they are with me," Rimes tweeted back in 2012.
The "my boys" reference did not sit well with Glanville, who tweeted: "Someone is trying 2 get under my skin by calling MY children 'her boys' Sooo transparent!They R MY boys, Eddie Boys and ur step-sons… 4 now"
It also irritated Glanville when she heard the country music star was invited to sing at Mason's school.
"I told Eddie to please tell you that I think it is highly inappropriate for you to sing in my sons class on Friday. Boundries!!" Glanville directly tweeted Rimes. "It's Mason's week [to] share his family with the class. it isn't ur place. Let Eddie read a script. You are not his parent. RESPECT!"
Things got heated again in 2013 when the reality star tried to unsuccessfully contact her sons during visitation with their dad, so she called her ex out on Twitter for supposedly ignoring her calls and messages.

"Ive been trying to get a hold of my kids 4 over an hour no response to my calls ,emails or messages. Maybe twitter will work @EddieCibrian," she tweeted.
This time it was Rimes who put Glanville on blast.
"Name calling and twitter rants are so 2012. Music and truth is so 2013," the singer tweeted the next day, which further infuriated Glanville, who replied, "I tweeted EC not his wife she should mind her business."

But by 2016, it appeared the love rivals called it truce with Glanville and Rimes joining Cibrian sideline at the boys' soccer games on the weekends. Then, in a rare move, Glanville gave Rimes a shoutout on Stepmother's Day in the US.
"Jake just told me its step moms day! So happy step moms day @leannrimes I didnt know or I would told u at soccer-thanks for luv n my boys !" she tweeted, to which the singer replied, "thx I love them with all my heart."

In 2018, they even posed for a selfie together as they celebrated Jake's 11th birthday.
"Peace in #calabasturd hanging for Jakes bday," the mum-of-two captioned the pic.
This year, the blended family have already celebrated Easter, Mother's Day and Mason's 18th birthday together on June 3.
"Happy Birthday Mason Glanville😀 💗It's my birthday too I spit you out of my womb 18 years ago today💗💗 this is literally the busiest month of my life💗💗💗," Glanville captioned a photo featuring her youngest son Jake, Cibrian, his parents and Rimes surrounding the birthday boy.
But Glanville is the first to admit it wasn't easy extending the olive branch.
"I did threaten to kill her one time — just once," she admitted on the Make Speidi Famous Again podcast in 2018. "Imagining another woman holding your baby, and you walk up to see your older son's soccer game — and this is brand-new and she's holding your baby, who's still a baby. And I walked up and I grabbed Jake so hard and said, 'I'll f—ing kill you if you touch my baby ever again.
"But now it's like fine. I always say if you can't beat them, join them. [Rimes is] always going to post family photos, she's always gonna say 'my boys,' she's always gonna do that and I just have to accept it or I can continue to fight with her, which I don't want to do. It took me a long time and I'm finally like, you know what, at least they love her."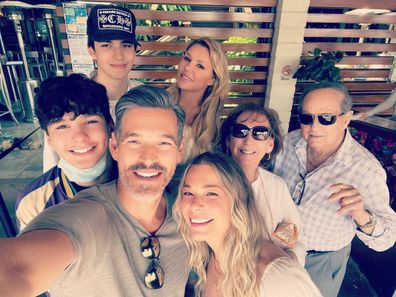 In April, Glanville also told Entertainment Tonight, "This took time and 10 years. And I think that LeAnn grew up a lot, and I know that I've grown a lot. We just we've grown up. We're not little brats anymore.
"We're, like, girly girls, we talk about everything and it's all fine and great. There's no weirdness, and no awkwardness [any more]. The kids are super happy when we're all together too, and it's finally good."
Glanville shared another update on their relationship on the Hollywood Raw podcast, which aired on June 16.
"The truth is LeAnn and I get along really well," she told hosts Dax Holt and Adam Glyn. "We really do."
So much so, Rimes invited Glanville over to celebrate Cibrian's 48th birthday with them later this week.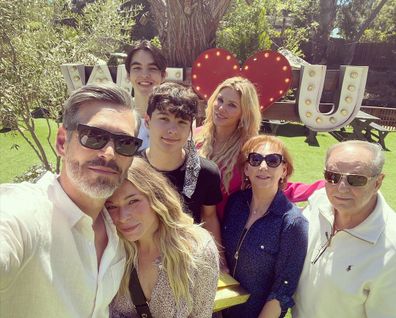 "Usually we spend the holidays together, like Easter, Christmas, Thanksgiving, but I've never been invited to Eddie's birthday because why would you want your ex-wife at your f—ing birthday? I mean, there's no point," Glanville said.
"But then yesterday, I got invited to his birthday by LeAnn. And then my son actually said, 'Well, dad didn't invite you for sure.'"
Glanville explained that ultimately she and Rimes just grew up and were ready to move on from their decade-long feud — and she wishes her friends would do the same.
"I'm like, 'If I can deal with this, you guys need to get over it.' I'm like, 'You know what, I guess I just forget s–-t. I'm just fine with it,'" Glanville said on the podcast. "But honestly, I think we both [have] grown up quite a bit, and we both love Eddie's parents. We both love the kids.
"Eddie's going to be in my life for the rest of my life. We bicker still like we're married when we're not. We're like sister wives. It's me and LeAnn and Eddie."
How long have LeAnn Rimes and Eddie Cibrian been together?
LeAnn Rimes and Eddie Cibrian celebrated their 10th wedding anniversary on April 23 this year. Ringing in the occasion in style, the couple jetted to Cabo San Lucas, Mexico, for a romantic getaway.
"Happy Anniversary, my LovE! I am so blessed to be able to share this life with you and the boys," Rimes wrote alongside a video montage shared on Instagram.
"Thank you for being the safe place to finally rest my heart. Without you, my journey of expansion and self discovery, my homecoming back to my own wholeness may have never happened."
Cibrian marked the milestone moment by sharing a throwback photo of them when they met briefly back in the '90s.
"Started from the 90's now we're here…Thank you for saying 'I Do' to this very tan boy rocking a very tight white tank top over a blousey shirt 😬 What a ride…10 years and still smiling baby 🥰 Happy Anniversary ❤️❤️❤️," he wrote.
For a daily dose of 9Honey, sign up here to receive our top stories straight to your inbox
641 total views, 2 views today